"Sunabe Gyros" is a healthy Middle Eastern and Greek fast food restaurant.
My favorites are "Falafel" and "Hummus" which are both vegan.
"Falafels" are deep fried balls made from chickpeas, onions, garlic, harbs and spices.
"Hummus" is a chickpea based dip blended with tahini, olive oil, lemon juice and garlic.
It is tasty with Hummus and less Tzatziki(Yogurt) Sauce for me.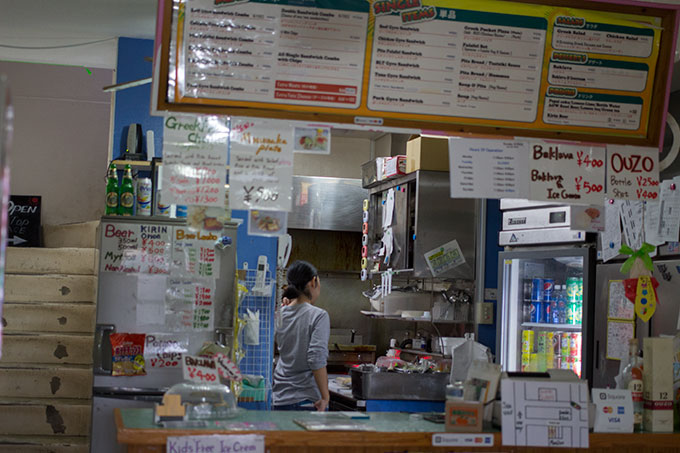 Combo Meals with Salad or Fries 900 yen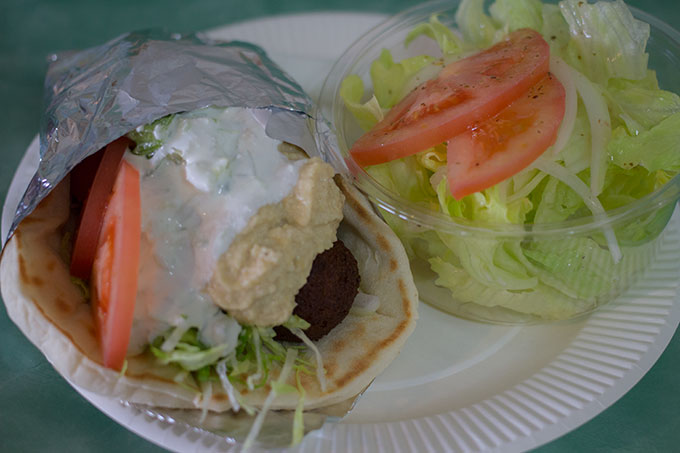 There are Lamb, Pork, Chicken and Fish Gyros and other choices.
For desert you can have "Baklava" which is a Middle Eastern cake made of thin layers of pastry filled with nuts and honey.
As "Sunabe" is a popular spot for surfing and snorkeling, a lot of cars are parking on the street along the ocean.
However, if you park on the street in front of "Sunabe Gyros", you might get a parking ticket!
Better park at the shop's free parking lot.
~・~・~・~・~・~・~・~・~・~・~・~・~・~・~・
Name : Sunabe Gyros
Address : 2F 2-99 Miyagi, Chatan / 沖縄県中頭郡北谷町宮城2-95 2F
Phone : 098 936 8817
Website : http://www.sunabegyros.jp/
Facebook : https://www.facebook.com/SunabeGyros/
Vegetarian-Friendly / Lacto-Ovo Vegetarian / Non Vegan / No Smoking / Two Free Parking / Ocean View Roof Top Terrace
~・~・~・~・~・~・~・~・~・~・~・~・~・~・~・